A competent customer service team can speed up a business' growth by fostering and maintaining client loyalty—clients who get their issues resolved swiftly and simply have a tendency to remain loyal to the business. A solid BPO for customer service may assist your business in gaining such loyalty while frequently helping you save money in the process. Most significantly, partnering with a top-notch BPO will relieve you and your team of the burden of providing customer assistance, allowing you to concentrate on crucial strategic issues.
As the chilly winds begin to blow and fallen leaves dance their way through the streets, there's no doubt about it, the spooky season is upon us. This is the time for jack-o'-lanterns, haunted houses, and thrilling costumes. But while many eagerly await the tricks and treats of Halloween, businesses have a unique challenge on their hands. How can they maintain customer service excellence during this season of ghosts and goblins?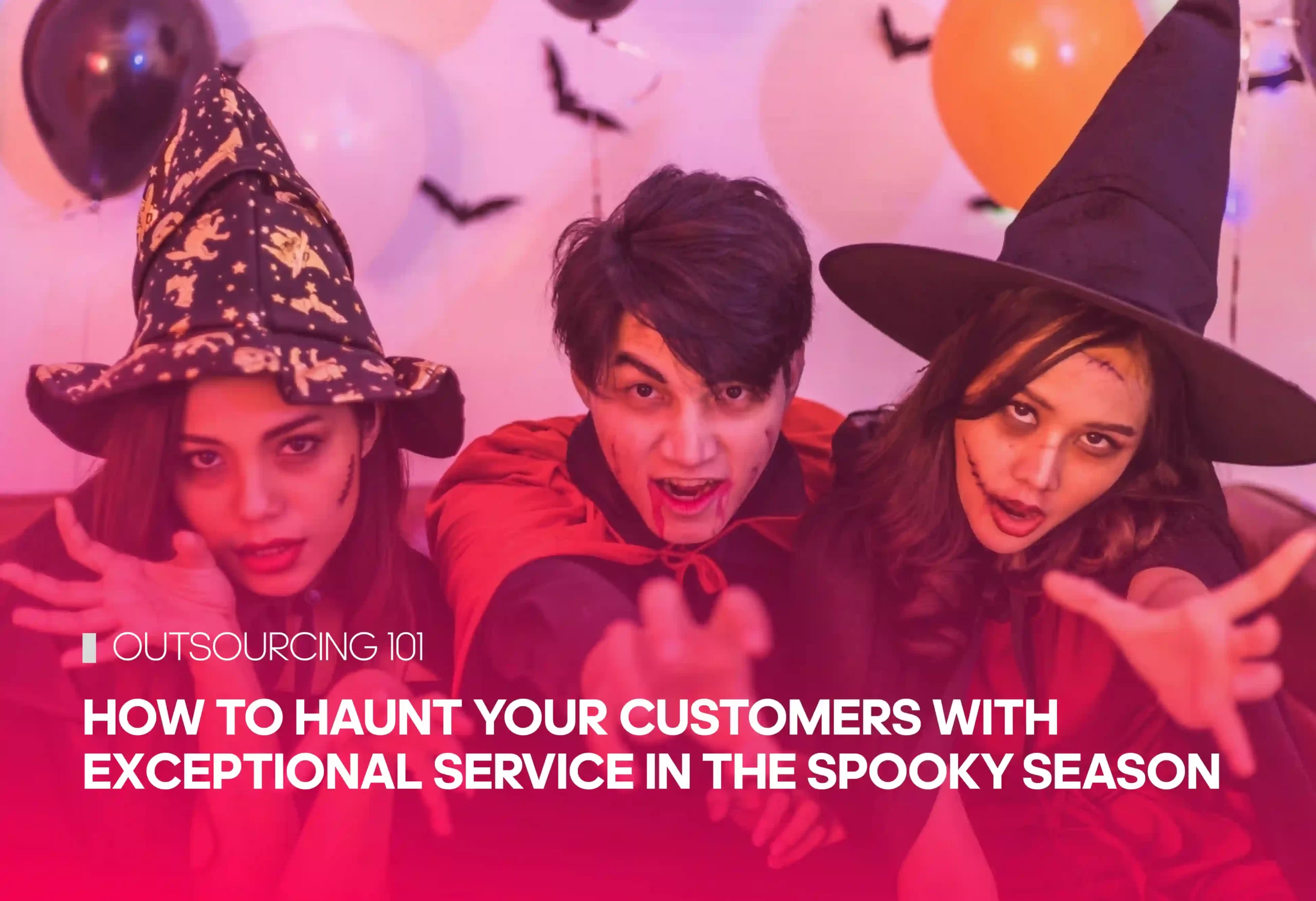 How to deliver excellent customer service during the Halloween season?
1. Embrace the Spooky Spirit
Get into the spirit of the season without losing your professional touch. Whether it's decorating your storefront, switching up your on-hold music, or adding a festive touch to your emails, integrating Halloween elements can give your brand a fresh and seasonal appeal. A small gesture like sending out Halloween-themed thank-you notes or offering seasonal discounts can go a long way in delighting your customers.
2. Anticipate Customer Concerns
With the spooky season comes specific customer queries and needs. Are costumes allowed inside the stores? Are there any Halloween-related promotions? To ensure that consumers receive effective service, call centers must closely monitor their wait times, high-demand periods, and average wait times. Train staff to proactively address these concerns, ensuring customers have a seamless experience.
3. Keep the Tricks at Bay
While the season is known for its pranks, it's essential to maintain transparency and honesty in your interactions. Ensure that any seasonal promotions or sales are clearly communicated to avoid misunderstandings. 
Effective product and service promotion is crucial as well when getting ready to launch a new range of products or services to the target market. Without a dynamic information and persuasion campaign, there is a significant risk of losing customers and potentially jeopardizing the bottom line. 
Take a page out of the Halloween book and treat your customers. This could be in the form of discounts, small gifts with purchases, or even candy at your point of sale. It's a small gesture that can make a difference in a customer's experience. Higher long-term revenue and a better reputation for business are correlated with happier customers. It would be a mistake to minimize the significance of customer service. 
5. Be Prepared for the Unexpected
This season is all about the unexpected – but that doesn't mean your business should be caught off guard. Have contingency plans in place for any unexpected spikes in customer queries or issues. A plan for contingencies is a strategy for anticipating and responding to unforeseen events. A company should identify such circumstances and make communication arrangements with its consumers. To assist in avoiding consumer difficulties, they must also devise interim fixes.
Listen to your customers. If they have suggestions or feedback, especially during a festive season, take it into account. It shows you care and are always striving for improvement.
Since it connects products and clients, customer feedback is a crucial component of businesses. There are additional benefits that can undoubtedly support and enhance services. 
7. Stay Engaged on Social Media
Engage with your customers through Halloween-themed polls, quizzes, or even sharing spooky stories related to your brand. Social media is a powerful tool to connect and build relationships, especially during festive seasons.
To stay current with the trend, brand promotion and social media presence expansion are essential. Giving power to your social media will result in developing and upholding a consistent corporate identity across all of the platforms your company utilizes.
8. Organize Halloween-centric Events or Workshops
If your business model allows, consider hosting events or workshops centered around Halloween. It could be a pumpkin-carving workshop, a spooky story session, or a costume contest. Such activities can foster a sense of community and enhance customer engagement.
Employees may express their creativity and socialize with coworkers they might not ordinarily work closely with around Halloween. For instance, a workplace may have a unifying theme for everyone to work on, such as a horror movie or circus. Each team can decorate their space and dress as a unit in accordance with the theme of the workplace has several teams. Everyone may then take in the artistry that their coworkers' offices put into their Halloween decorations during the costume parade.
While the focus is on spooky fun, safety should remain a top priority. Whether it's ensuring that decorations don't become hazards or regulating in-store traffic during events, always prioritize your customers' safety.
For BPO security, access control procedures must be put in place. Unauthorized entry to your site is a serious risk since it may result in theft, data breaches, or other security lapses. Make sure that every employee has the credentials and identity cards required to enter the building. Keep guests to a minimum and always make sure they are accompanied.
Once the season is over, gather your team and analyze what went well and what could be improved. It's an opportunity to learn and refine your strategy for the next festive season. Superior customer service sets your company apart from rivals. However, some find it difficult to keep up with the aggressive market rivalry because of high operational costs.
In conclusion, the spooky season offers a fantastic opportunity for businesses to show their creativity, engage with their customers in new ways, and, most importantly, uphold the standards of customer service excellence. By blending the magic of Halloween with steadfast professionalism, businesses can ensure they remain a treat in their customers' eyes. 
Excellent customer service is always essential. The customer service you offer is crucial to your survival as a small business owner and to ensuring your sustainability and development in the long run. It ought to be ingrained in company culture and given constant importance.
However, there are instances when providing excellent customer service is much more important than usual. When you launch a new service or product, when you expand into new sales channels, and of course around the holidays.
Happy Haunting!
SPLACE is a dynamic and innovative business process outsourcing company that offers a wide range of outsourcing services to businesses worldwide. With a focus on delivering high-quality solutions, virtual assistance, IT solutions, and exceptional customer service, SPLACE has established the company as a trusted outsourcing and call center service provider to companies across various industries. 
SPLACE comprises experienced professionals who deliver customized and cost-effective solutions to meet every client's business needs. The company believes in the power of technology and innovation to drive growth and success, and its main focus is helping clients succeed in an ever-changing business landscape. 
Clients looking for support in data management, customer service, virtual assistance, technical support, or any other outsourcing need can seek help from the SPLACE BPO firm.
If you are interested in Splace's Business Process Outsourcing Solutions,
Email: ceo@splacebpo.com or call us at 
US: +1 929 377 1049      CA: +1 778 653 5218     UK: +61 483 925 479     AU: +61 483 925 479     NZ: +64 9 801 1818    
NL: +31 20 532 2142