Is it Safe to bring International Business to Davao City? A BPO Perspective
Davao City, located in the southernmost part of the Philippines, has become a popular destination for international businesses, particularly in the business process outsourcing (BPO) industry. With its strategic location, skilled workforce, and supportive government policies, Davao City offers a conducive environment for businesses looking to establish their regional presence.
However, one question often arises whether bringing international business to Davao City is safe, especially from a BPO perspective. In this blog, we'll take a closer look at the safety and security concerns in Davao City and how they may affect international businesses in the BPO industry.
Safety and Security in Davao City
Davao City is one of the largest and broadest cities in the Philippines, and it is a central economic hub and a popular destination for tourists and investors. The city is known for its strict law enforcement and crime prevention measures, which have been implemented to maintain its residents' and visitors' safety and security.
City Ordinances Unique in Davao
The safety procedures implemented in Davao City under former Mayor Rodrigo Duterte included a curfew for minors, a firecracker ban, and a strict anti-smoking policy.
The curfew prohibits minors (under 18 years old) from loitering in the streets after 10 pm without adult supervision.
FIRECRACKE BAN. The firecracker ban restricts the use of firecrackers and other loud explosives, especially during the New Year celebration, to prevent accidents and injuries.
ANTI-SMOKING POLICY. The strict anti-smoking policy prohibits smoking in public and closed places and encourages residents to adopt a healthier lifestyle.
911 EMERGENCY RESPONSE TEAM. Davao City also has its 911 emergency response system, which allows residents to report emergencies and request assistance from the authorities, WITHOUT ambulance/transportation charges and available citywide. The system has modern communication technology and trained personnel who can respond quickly and efficiently to emergencies.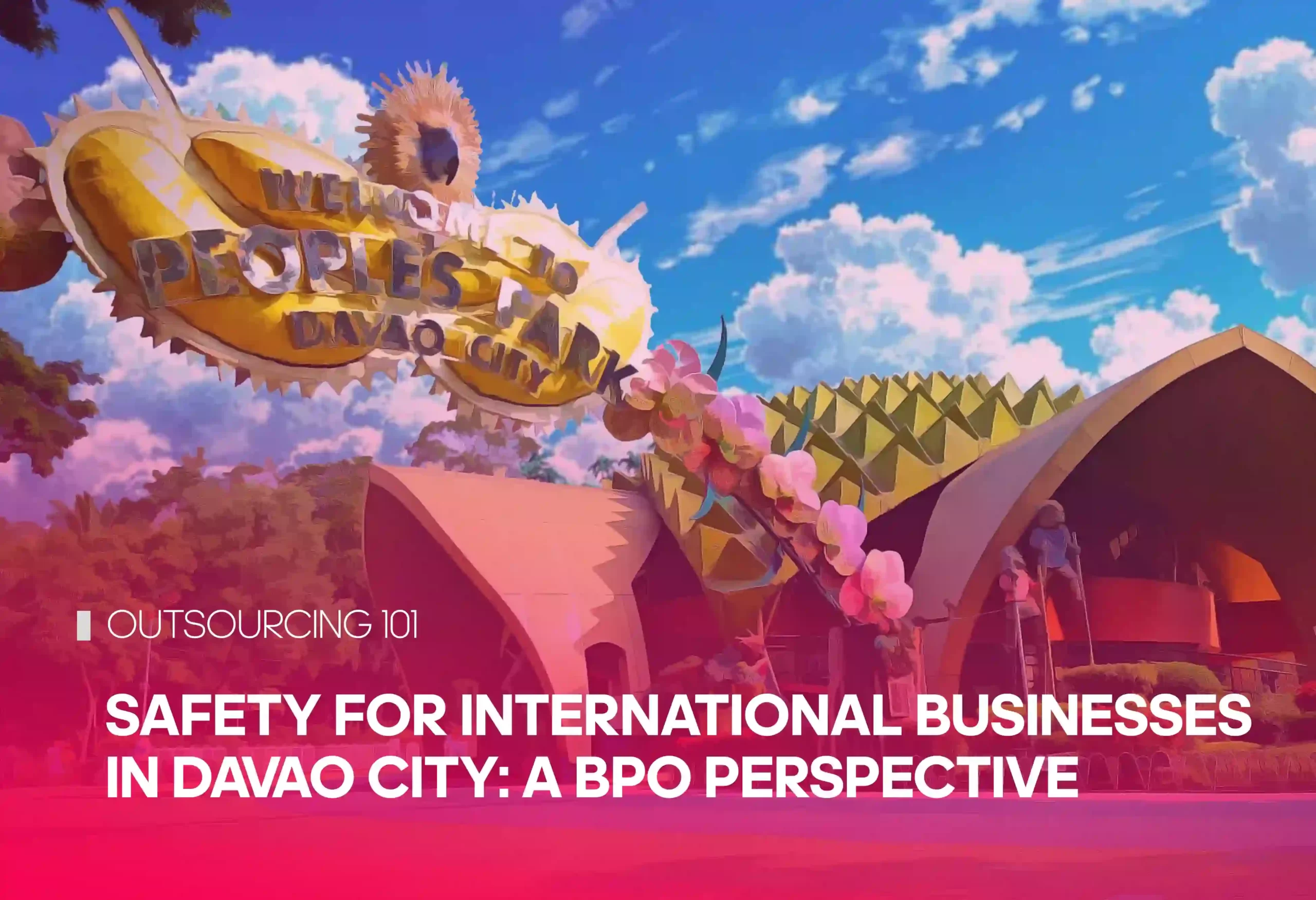 Despite these measures, safety and security concerns still exist in some areas of the city, particularly the outskirts of the town.
Theft and robbery incidents have been reported in some areas.
Threats of kidnapping and terrorism are heard of in Mindanao but not within the city.
What is the Government doing?
However, these incidents are relatively rare in the town, and most residents and visitors in Davao City do not experience any safety or security issues on any given day. The city officials ensured that what the former administration has done to keep the peace and safety of the city will continue to protect its citizens. For example:
Police and Military visibility is apparent. There are random checkpoints and roving police mobiles at intervals, even late at night.
Citizens can ask help for any government assistance by dialing 911 on their phones. The Central 911 Emergency Response team is staffed 24/7, so people can reach them anytime.
The city conducts regular information dissemination, seminars, and training in public offices and agencies to apprise the public on how to be vigilant in certain situations.
Some additional civilian guards assist the Military and Police in securing the barangays, especially school zones, hospitals, and churches.
Generally, Davao City is a relatively safe and secure site for multinational BPO companies. The municipal government and BPO businesses have taken several precautions to protect the safety and security of their operations, and the city's general crime rate has decreased dramatically over the years.
Multinational enterprises must work with the Government and comply with regulations to observe safety requirements. Hence, a growing number of international brands have established their presence in Davao City, one of the most livable cities in the Philippines, due to its suitable and safe environment for their activities.
The BPO (Business Process Outsourcing) industry involves companies providing services such as customer support, technical support, and back-office support to clients worldwide. As such, these companies handle sensitive data and information for their clients, which makes safety and security a crucial consideration when choosing a location for their operations.
In Davao City, BPO companies are noticeably located in gated communities and commercial areas that are well-secured and monitored by security personnel. These locations provide a secure environment for BPO operations, which helps to prevent any security breaches or unauthorized access to sensitive information.
Many BPO companies also have security measures to ensure their operations' safety and security. These measures can include biometric scanners, CCTV cameras, and other security systems designed to monitor and protect the company's operations.
The Philippine Government has also established the Philippine Economic Zone Authority (PEZA). This zone aims to promote the establishment of ecozones or areas within the country designated for export-oriented businesses, including BPO companies. These ecozones are subject to stringent security measures, which include physical security and cybersecurity protocols, to ensure the safety and security of the businesses operating within them.
Nevertheless, Davao City and the Philippine ecozones create a conducive location for establishing BPO firms. This helps safeguard their clients' sensitive data and information and prevents security breaches or unauthorized access to this information.
The Philippine Economic Zone Authority (PEZA) was established to promote and regulate the development of ecozones or special economic zones within the Philippines. These ecozones are designated areas within the country intended to attract foreign investment, generate jobs, and promote economic growth by offering various incentives and benefits to businesses.
One of these ecozones' primary focuses is attracting export-oriented businesses, including business process outsourcing (BPO) companies. BPO companies provide services, such as customer service, technical support, and back-office operations, to clients outside the Philippines.
Stringent security measures are implemented to ensure the safety and security of businesses operating within these ecozones. This includes physical security measures such as security checkpoints, CCTV cameras, and access control systems. Cybersecurity protocols are also in place to protect the data and strategies of these businesses from cyber threats.
Overall, the establishment of ecozones and the implementation of these security measures have been instrumental in promoting the growth of the BPO industry in the Philippines. The BPO industry has been instrumental and significantly contributed to the country's economy.
Davao City offers a relatively safe and secure environment for international businesses in the BPO industry. While there are occasional incidents of crime and security concerns, these are relatively rare and can be mitigated through appropriate security measures. The Government, citizens, and businesses work collaboratively to comply with the proper precautions and choose their locations carefully. Abundant with an educated, talented, and skilled workforce, Davao City can be a viable and attractive destination for international BPO operations.
Splace is a business process outsourcing company composed of highly trained, top-rated, experienced, talented, and dedicated Filipino professionals whose mission is to bridge the gap between global companies and their need for exceptional Filipino talent.
If you are interested in Splace's Business Process Outsourcing Solutions,
Email: ceo@splacebpo.com or call us at 
US: +1 929 377 1049      CA: +1 778 653 5218     UK: +61 483 925 479     AU: +61 483 925 479     NZ: +64 9 801 1818    
NL: +31 20 532 2142