Prior to the development of big data processing technology, businesses were unable to collect and store enormous datasets. Even the most advanced processing tools cannot produce comprehensive results in a short amount of time, but they have demonstrated excellent performance in a variety of fields, including business model development and decision-making. These technologies strive to reduce processing, hardware, and value-generating costs. 
The Use of Business Process Outsourcing in Big Data Analytics has become an effective tool for transforming company paradigms and organizational frameworks in the era of data-driven decisions. This is especially important for the Business Process Outsourcing (BPO) industry, which was founded on the idea of simplifying processes to increase efficiency and cut costs. 
Business data analysis, IT systems and programs, and business process management (BPM), are just a few of the less complex operations that the business process outsourcing (BPO) industry now offers to its clients in an effort to improve services to them. By implementing automated techniques, service providers are moving away from the models that emphasize physical capital and toward those that emphasize intellectual capital. By making a difference in the customer experience, they can offer value as a result.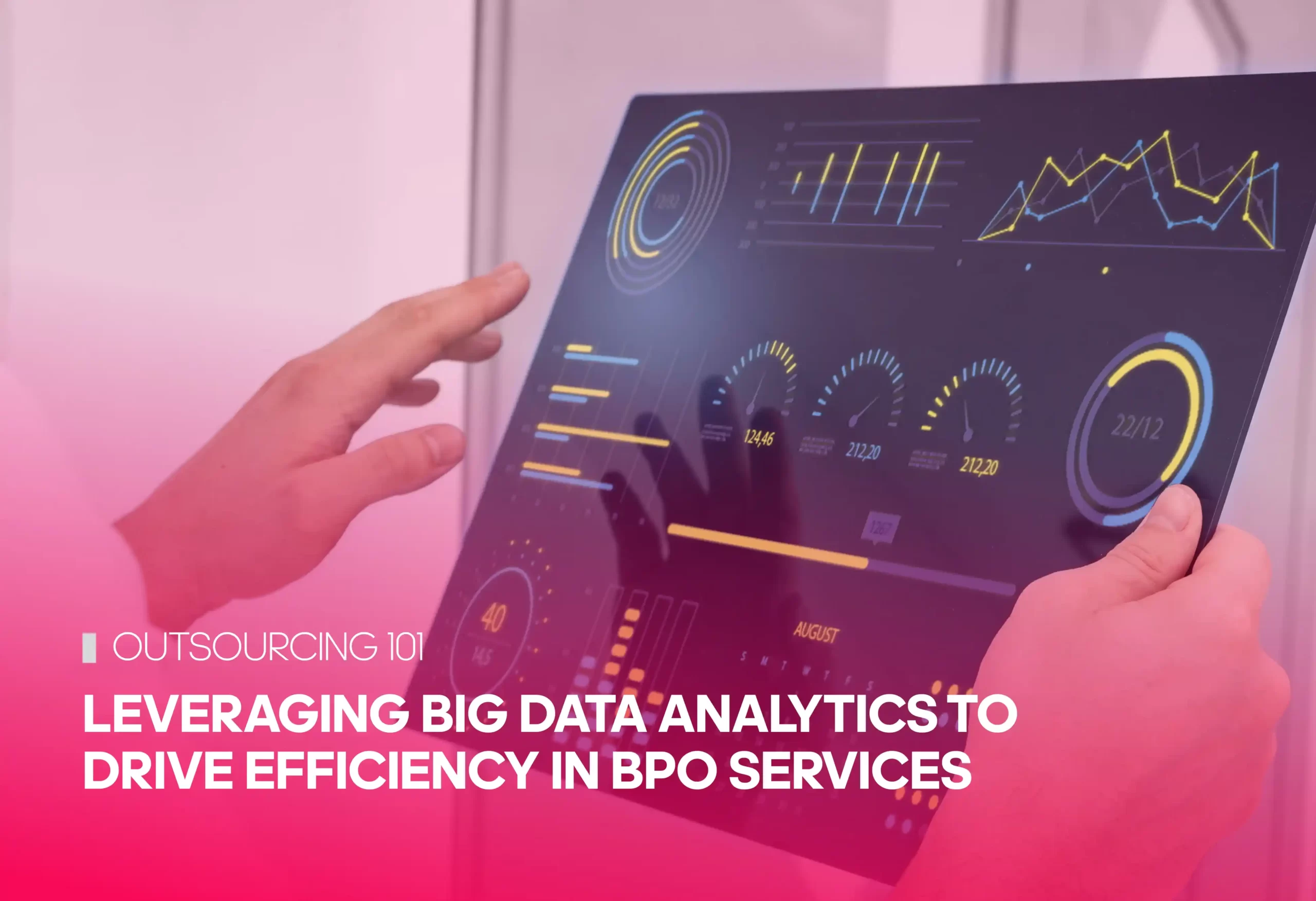 Why does BPO demand Big Data Analytics?
Every day, BPO companies manage a huge quantity of data, including histories of transactions, customer service records, and more. Big Data Analytics can make sense of this torrent of data and provide insights into trends in the marketplace, consumer behavior, and operational efficiency. Without solid data analytics, a significant percentage of this important data may go unused, missing the chance to improve performance.
Enhancing Customer Experience
Enhancing your customer experience throughout the whole consumer journey, from awareness to purchase to retention, will increase customer satisfaction. To assess your customer satisfaction and loyalty, big data may help track and quantify customers' interactions and suggestions across a variety of points of contact, including mobile apps, websites, messages, telephone calls, and surveys. By locating the main motivators, problems, and chances for development, data mining may assist you in analyzing and improving your client experience. You may improve customer happiness and loyalty while lowering expenses and turnover by improving your customer experience.
By detecting inefficiencies and potential areas for development, advanced analytics helps simplify processes. Processes may be automated, and predictive models can estimate workload peaks, assisting BPOs in more effectively allocating resources.
Operational expenditures vs earnings are the fundamental inputs in the assessment of operational efficiency. The efficiency of operations is typically inversely correlated with cost to profit ratio.
Gaining insight into consumer behavior patterns, accuracy in customer segmentation, the best analysis of financial trends, improvements in service delivery methods, and service customization are some of the factors that lead to better operational efficiency. Big Data Analytics is the key to improving operational efficiency because it optimizes processes, lowering operational expenditure. The use of efficient risk management techniques that adhere to legal requirements is also crucial.
To keep earnings in line with corporate goals, it is essential that all of the aforementioned goals be achieved at appropriate costs.
BPOs may evaluate the risks related to many aspects of their operations, such as compliance, service delivery, and financial systems, using historical data analysis and predictive modeling. Big Data Analytics enables BPOs to proactively manage risks by identifying problems before they become more serious.
Big data assists in identifying and forecasting financial hazards that might endanger your company. Big data analysis can assist in finding trends that point to a possible cybersecurity danger to your company given the rise in digital crime.
BPO companies may stay ahead of the curve by quickly adjusting to shifting market trends thanks to real-time data. When a BPO understands what the market wants, it may provide customized services that rivals might not.
Businesses that use Big Data Analytics get a substantial advantage in the highly competitive business landscape of today. They are able to recognize industry trends, new possibilities, and possible dangers quickly. Businesses may proactively modify their plans and put themselves ahead of rivals by studying consumer and market data. This edge may completely transform the game, especially in sectors with quick market changes.
At every level in the company, decision-making procedures may be supported by data-driven insights. Whether opting to join a new market or selecting a new service to provide, Big Data makes sure that these decisions are supported by factual facts rather than intuition.
Big Data Analytics' capacity to offer timely and data-driven insights to decision-makers is one of its main benefits. Traditional decision-making frequently depends on gut instinct or historical information, which may not accurately reflect the present market dynamics or new trends.
Organizations may access real-time data and predictive insights with big data analytics, empowering them to make wise decisions. Decision-makers can rely on data-backed insights to guide the ship toward success, whether they are altering marketing tactics, streamlining supply chain operations, or improving product offerings.
What are the challenges of Big Data Analytics to BPO?
Big data difficulties may be roughly divided into three categories: data challenges, data process issues, and data management. Data challenges are the first category. The problems that come with big data's properties are known as data difficulties. Process difficulties are those that arise during data processing, whereas management challenges are those that arise when dealing with the data itself, such as ensuring security. Big data has various issues due to its properties, like its huge volume, diversity, etc. While management difficulties are concerned with privacy and security, process challenges are connected to data collecting, pre-processing, analysis, and visualization. 
Massive amounts of data have been produced as a result of the unheard-of rise in data from internal and external sources. Due to the issues this huge volume of data poses to the data itself, such as the inability of existing tools to store the data for processing, new creative approaches need to be created to deal with this data flood. 
One of the most important properties of large data is value. Large datasets of big data include significant information that must be retrieved. This is a significant challenge for data, such as how to efficiently and cost-effectively extract the high information from data for use in business intelligence. Its operation significantly impacted from this large data. 
Processing and interpreting huge datasets provide procedural issues. The fact that the data is present in several forms and must be converted into one form for analytical purposes creates a substantial difficulty for the procedure. Data Preprocessing, Data Analysis and Modeling, Data Visualization, and Data Acquisition and Storage are the four segments that make up this process.
Data gathering and archiving.
Data acquisition refers to the practice of gathering and archiving data using important knowledge. The fact that the data is available in many formats (structured, semi-structured, and unstructured) and is derived from a variety of sources, including sensors, social networking sites, blogs, etc., poses a substantial challenge to data. The second issue is related to storage because even if data is created by numerous devices, not all of it has meaning. Therefore, a smart filter must be used to produce relevant datasets. The expense of storing this enormous collection might make it necessary to use expensive, scalable solutions. 
Big Data Analytics is changing the landscape of the BPO industry, making it more efficient, customer-centric, and competitive. However, the rewards come with their own set of challenges that need to be addressed carefully. Organizations that can effectively implement Big Data Analytics while overcoming these challenges will find themselves leading the pack in the ever-evolving BPO marketplace.
Data may now be used in practical ways through digital transformation technologies and vast storage systems like data farms, data lakes, and the cloud. Big data mining platforms have been developed by innovators. But to harvest the data, analyze it, and use it effectively, they still required experts in a variety of difficult subjects. In order to continuously enhance the employee and client experience, business process outsourcing (BPO) providers like Splace must address this demand. 
Splace analytics as a service creates tailored interventions for identified areas throughout the customer journey that require improvement using a mix of its proprietary speech analytics platform, cloud computing, machine learning, artificial intelligence, and data analysis. The outcomes lead to focused improvements for the worker, client, and customer. 
Splace is a business process outsourcing firm that is perfect for assisting companies in producing outstanding client experiences. In order to create enterprise-quality CX, they offer a wide range of full-service and self-service scalable options. 
Splace assists companies in providing the most sought consumer experiences worldwide. Are you curious to know more about the Splace distinction? To find out how we can assist you in generating more smiles, get in touch with us when you're prepared to start a conversation with a customer experience specialist. 
SPLACE is a dynamic and innovative business process outsourcing company that offers a wide range of outsourcing services to businesses worldwide. With a focus on delivering high-quality solutions, virtual assistance, IT solutions, and exceptional customer service, SPLACE has established the company as a trusted outsourcing and call center service provider to companies across various industries. 
SPLACE comprises experienced professionals who deliver customized and cost-effective solutions to meet every client's business needs. The company believes in the power of technology and innovation to drive growth and success, and its main focus is helping clients succeed in an ever-changing business landscape. 
Clients looking for support in data management, customer service, virtual assistance, technical support, or any other outsourcing need can seek help from the SPLACE BPO firm.
If you are interested in Splace's Business Process Outsourcing Solutions,
Email: ceo@splacebpo.com or call us at 
US: +1 929 377 1049      CA: +1 778 653 5218     UK: +61 483 925 479     AU: +61 483 925 479     NZ: +64 9 801 1818    
NL: +31 20 532 2142