Outsourcing is incorporated into many firms' strategy in today's fast-paced commercial world. Utilizing Business Process Outsourcing services, which frequently include back office help from virtual assistants, is a crucial component of outsourcing. 
This section of an organization known as the "back office" is in charge of all business activities linked to its operations that don't directly require contact with consumers. While not visible to customers, these operations are often vital to running the business. The back office serves as the foundation of a company which often focuses on client engagement and essential assistance.
Back office assistance provided by virtual assistants is essential in this outsourcing environment. These skilled and experienced specialists offer a variety of operational and administrative help remotely. Virtual assistants provide a cost-effective alternative for firms looking to streamline their back-office operations, from managing data input and paperwork to addressing client enquiries and organizing appointments. They are in charge of all business activities linked to its operations that don't directly involve connecting with consumers. While not visible to customers, these operations are often vital to running the business. The back office serves as the foundation of a company which often focuses on client engagement and essential assistance.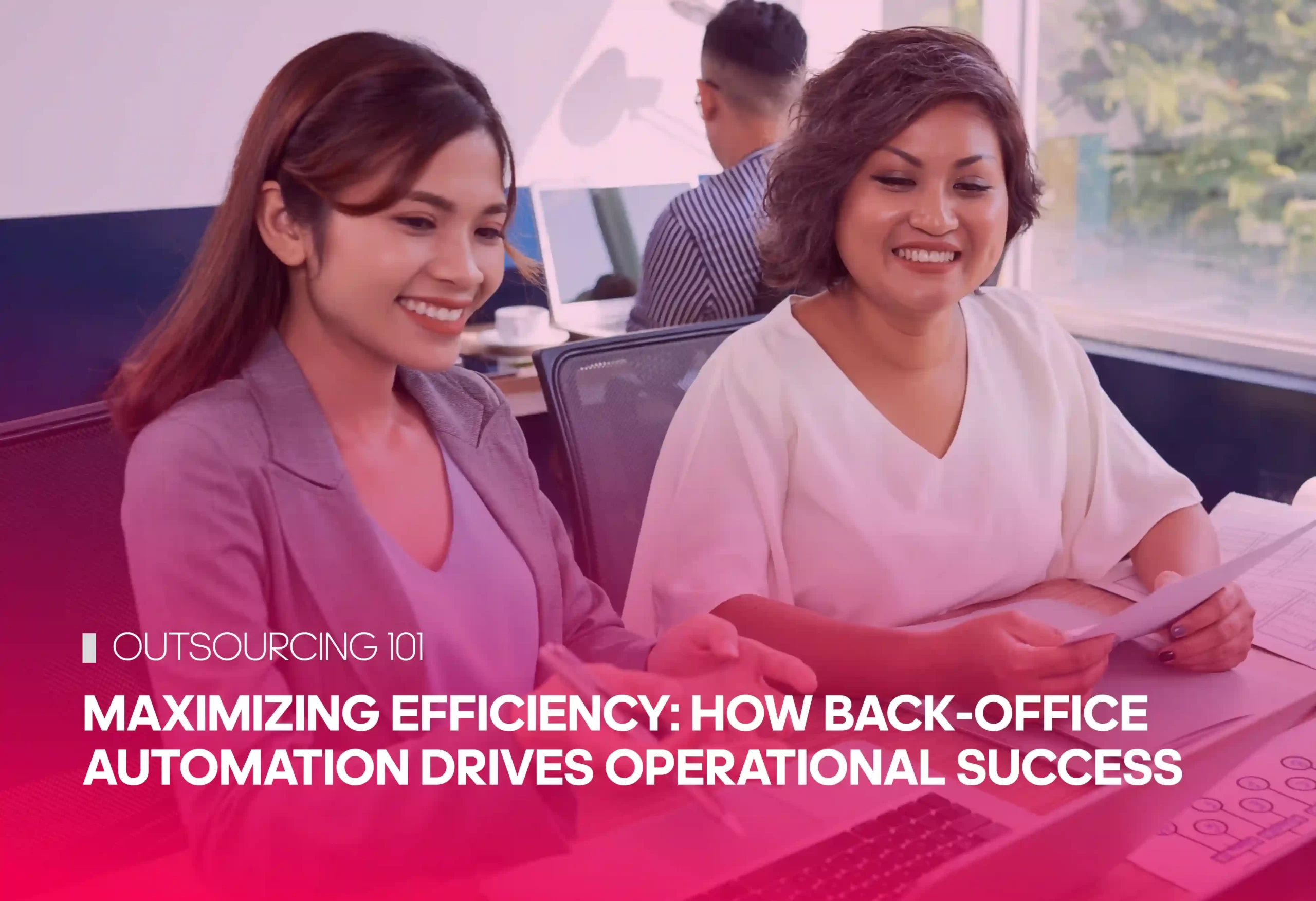 What advantages do back offices offer to companies?
Businesses may increase productivity, improve efficiency, and ultimately more successfully accomplish their strategic goals by adopting outsourcing through BPO services and deploying virtual assistant back office assistance. By allowing businesses to concentrate on what they do best while putting non-core operations in the skilled hands of others, outsourcing back offices has established itself as a useful tool in today's competitive environment. In addition, Investing in the back office not only improves operational efficiency but also enhances customer satisfaction. With dedicated teams managing critical processes behind the scenes, businesses can ensure timely and accurate delivery of products or services to their customers.
Furthermore, investing in a robust back office infrastructure enables businesses to leverage technology and automation tools that streamline workflows and reduce human error. This leads to cost savings and improved productivity in the long run. 
It is also highly considered that the best back office system should be user-friendly, customizable to fit specific business requirements, scalable to accommodate growth, and integrate seamlessly with other software applications. It should also offer data security measures to protect sensitive information.
WHAT SERVICES DOES THE BACK OFFICE OFFER TO BUSINESS?
Managing several parts of an organization's workforce, such as hiring, training, payroll, benefits administration, managing employee relations, and adhering to labor rules, are typical duties of a human resource (HR) office. Depending on the size and type of the business, the function may vary greatly, but in general, HR professionals are in charge of fostering a supportive work environment and making sure that the company is making the most use of its human resources.
The core of every corporation is its accounting and finance division, which is in charge of maintaining the effective financial management and financial controls required to support all corporate operations. This department's primary duties include keeping track of all financial transactions, often using a double-entry bookkeeping system, and creating financial reports as needed for management and outside stakeholders. All financial records are kept current and correct by the accounting and finance department. 
Information technology (IT) services are the use of business and technical skills to support businesses in the development, management, and access to information and business processes. According to the abilities used to provide the service (design, construct, and run), the market for IT services may be divided into several categories. Additionally, there are other types of services, including business process services, application services, and infrastructure services. Through the use of sophisticated analytics, machine learning, and intelligent automation, IT teams operate in more flexible ways. These network management tools are being used more often in cloud and hosted settings as businesses adjust to a more scattered workforce.
An organization's administrative department is the division in charge of all day-to-day activities. This might involve managing the organization's legal issues, monitoring its financial management, managing its strategic planning, controlling its budgeting processes, and attending to its human resource (HR) needs. These divisions make judgments on upcoming initiatives while also keeping an eye on the organization's performance.
Additionally, organizations often need a number of licenses and legal documents to operate. Licenses, Non-Disclosure Agreements (NDAs), corporate by-laws, business plans, employment agreements, and policy conditions are a few examples of this type of agreement. The administrative departments are in charge of creating and maintaining these documents. Some papers, such as insurance policies and licenses, might need to be updated often. These documents' principal objective is to safeguard the organization's and the owners' interests against monetary harm or legal action. In order to maintain compliance, the administrative units also perform routine research to identify their operational needs.
LOOKING FOR THE BEST PARTNER IN OUTSOURCING?
Ultimately, the back office typically utilizes a variety of software and technology solutions to streamline these tasks. With advancements in technology like automation and artificial intelligence, back office operations are becoming increasingly efficient. 
Choose Splace as your company partner for the best outsourcing services! Contact Splace right away to collaborate with highly competent experts who can handle any business tasks in back-office operations, allowing you to identify potential areas for future growth. You can work together with the need in back office work that is integral to a business's success, enabling your front office to focus on generating revenue and maintaining customer relationships.
SPLACE is a dynamic and innovative business process outsourcing company that offers a wide range of outsourcing services to businesses worldwide. With a focus on delivering high-quality solutions, virtual assistance, IT solutions, and exceptional customer service, SPLACE has established the company as a trusted outsourcing and call center service provider to companies across various industries. 
SPLACE comprises experienced professionals who deliver customized and cost-effective solutions to meet every client's business needs. The company believes in the power of technology and innovation to drive growth and success, and its main focus is helping clients succeed in an ever-changing business landscape. 
Clients looking for support in data management, customer service, virtual assistance, technical support, or any other outsourcing need can seek help from the SPLACE BPO firm.
If you are interested in Splace's Business Process Outsourcing Solutions,
Email: ceo@splacebpo.com or call us at 
US: +1 929 377 1049      CA: +1 778 653 5218     UK: +61 483 925 479     AU: +61 483 925 479     NZ: +64 9 801 1818    
NL: +31 20 532 2142