For e-commerce platforms, the holiday season is a crucial period since it frequently accounts for a sizable amount of their yearly earnings. E-commerce companies need to make sure they are ready to manage the rush as buyers go online in droves in quest of the ideal present or a great Christmas offer. Business process outsourcing (BPO) emerges as the unsung hero in this situation. 
Further, as the festive season looms large on the horizon, e-commerce businesses worldwide gear up for the inevitable holiday shopping rush. It's that time of the year when sales skyrocket, but so do customer inquiries, orders, and logistical challenges. This is where Business Process Outsourcing steps in as a crucial ally for e-commerce ventures. Let's delve into how BPO can help e-commerce platforms prepare for and manage the bustling holiday season.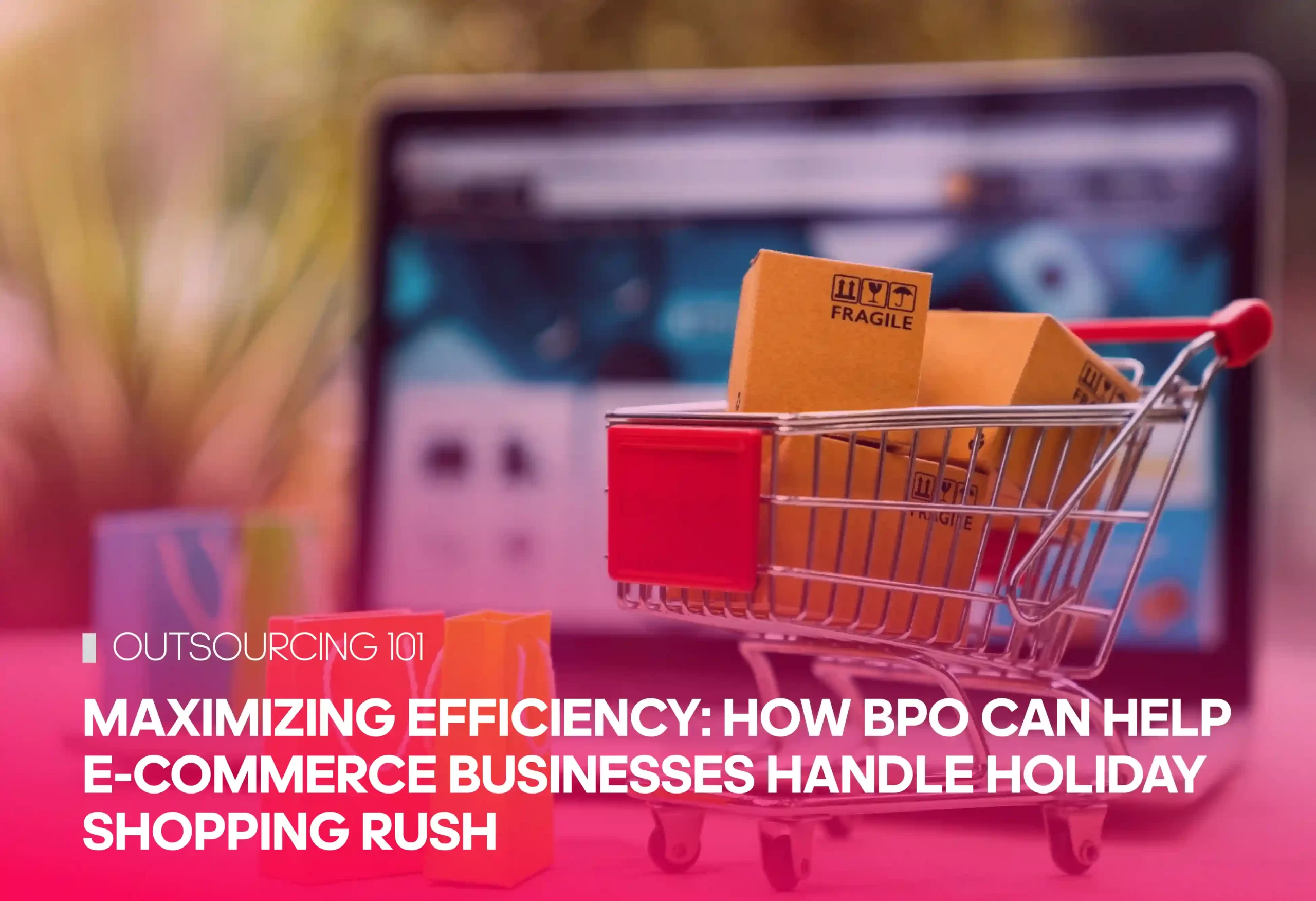 How BPO can help E-commerce platforms during the Holiday Season
BPO, or business process outsourcing, is a term that is used to refer to the practice of businesses contracting out specific processes to outside providers. This can include everything from order management and payment processing to customer service and logistics in the world of e-commerce.
Customers receive offers around the holidays, and companies that want to inform them should select customer support outsourcing in order to provide excellent customer service and differentiate their brand from the competition.
During the holiday season, there's also an exponential increase in customer queries ranging from product details to delivery timelines, and payment issues. BPO can aid in quickly scaling customer support teams, ensuring that customers receive prompt responses and resolutions. For BPO services that offer multilingual support, this can significantly enhance customer experience for global e-commerce platforms.
Efficient Order Management
The surge in holiday orders can overwhelm even the most efficient e-commerce setups. Outsourcing order management can ensure that the process runs smoothly, from order receipt to processing and delivery scheduling. Customers are anticipated to swarm goods and services throughout the next holiday season. As a result, an ongoing process must be followed.
Enhancing Returns and Refund Processes
The post-holiday season often sees a spike in returns and refund requests. A streamlined process managed by a BPO partner can help handle this surge effectively, ensuring customer satisfaction and brand loyalty.
Thus, BPO providers are expected to deliver high-quality services that will address a variety of concerns due to the increased demand for client services throughout the holiday season. Many of these are the services for returns and refunds, particularly for companies that sell products.  Accordingly, these issues must be addressed. 
Robust Payment Processing
Robust payment processing is one of the most crucial services that BPO businesses must consider. As the number of transactions multiplies during the festive season so does the risk of payment glitches. BPO entities specializing in financial processes can ensure that all transactions are processed seamlessly and securely.
Data Management and Analytics
Understanding customer behavior during the holiday rush is crucial for future strategies. BPOs can offer data management services, analyzing buying patterns, popular products, and customer feedback, allowing businesses to refine their strategies for subsequent years.
Every year, the holiday season marks the height of numerous global transactions. Therefore, BPO companies have an edge and an excellent opportunity to observe customer habits and trends. This is yet another method of utilizing marketing techniques in the future. 
Nothing disappoints a customer more than finding their desired product out of stock. Outsourced inventory management can ensure real-time updates on stock levels, helping businesses restock popular items promptly and manage their inventory efficiently.
With the sheer volume of orders during the holiday season, logistics can become a nightmare. Outsourcing logistics can ensure timely, accurate, and efficient delivery, enhancing customer satisfaction. A competent and reputable logistics BPO provider will also provide help around the clock. You can maximize your BPO services if you have continuous access to this help.
The surge in online shopping also attracts cyber threats. BPOs specializing in cybersecurity can fortify e-commerce platforms, ensuring customer data remains uncompromised.
To quickly identify and react to any suspicious activity, networks and systems must be continuously monitored. Strong cybersecurity standards are required in the BPO sector, as evidenced by the fact that cybersecurity regulations have been modified to handle changing threats.
An efficient feedback loop, also known as a closed feedback loop, drives positive change by gathering information on an agent's performance and communicating that information back to the agent in a way that encourages the agent to adjust their practices in light of the new knowledge. Establishing a feedback loop with the BPO partner ensures continuous improvement. Regular checks and open communication can help identify and rectify challenges in real time.
In essence, BPO acts as a force multiplier for e-commerce businesses during the holiday shopping rush. By outsourcing non-core yet essential processes, businesses can focus on what they do best – offering an extensive product range and ensuring their customers have the best shopping experience. With proper planning and a reliable BPO partner, e-commerce platforms can not only survive but thrive during the bustling holiday season.
Now is the right moment to put together the ideal holiday strategy and think about outsourcing your work to guarantee a prosperous season. The leading outsourcing company, as Splace, can offer you first-rate customer support outsourcing that will help you build your brand and increase your productivity.   Splace can continue to provide high-quality services that can satisfy a broad range of customers through its cutting-edge facilities and technology. Enjoy your holidays and leave the process to Splace. 
SPLACE is a dynamic and innovative business process outsourcing company that offers a wide range of outsourcing services to businesses worldwide. With a focus on delivering high-quality solutions, virtual assistance, IT solutions, and exceptional customer service, SPLACE has established the company as a trusted outsourcing and call center service provider to companies across various industries. 
SPLACE comprises experienced professionals who deliver customized and cost-effective solutions to meet every client's business needs. The company believes in the power of technology and innovation to drive growth and success, and its main focus is helping clients succeed in an ever-changing business landscape. 
Clients looking for support in data management, customer service, virtual assistance, technical support, or any other outsourcing need can seek help from the SPLACE BPO firm.
If you are interested in Splace's Business Process Outsourcing Solutions,
Email: ceo@splacebpo.com or call us at 
US: +1 929 377 1049      CA: +1 778 653 5218     UK: +61 483 925 479     AU: +61 483 925 479     NZ: +64 9 801 1818    
NL: +31 20 532 2142