Outsourcing has been a widespread approach for businesses trying to cut expenses, get access to expert talents, and concentrate on their core capabilities in today's correlated digital marketplace. While outsourcing has many advantages, there are also substantial cybersecurity risks that should not be disregarded. 
Regardless of the size or scope of any business, maintaining the privacy of both the outsourcing provider and clients is the utmost priority. Giving these initiatives lesser importance will lead to a bigger and serious issue including economic, social, ethical, and even judicial implications, as well as for the customers who trusted the provider with their most confidential data. Not to add that the technical developments have unintentionally made it simpler for criminals to carry out their unlawful act.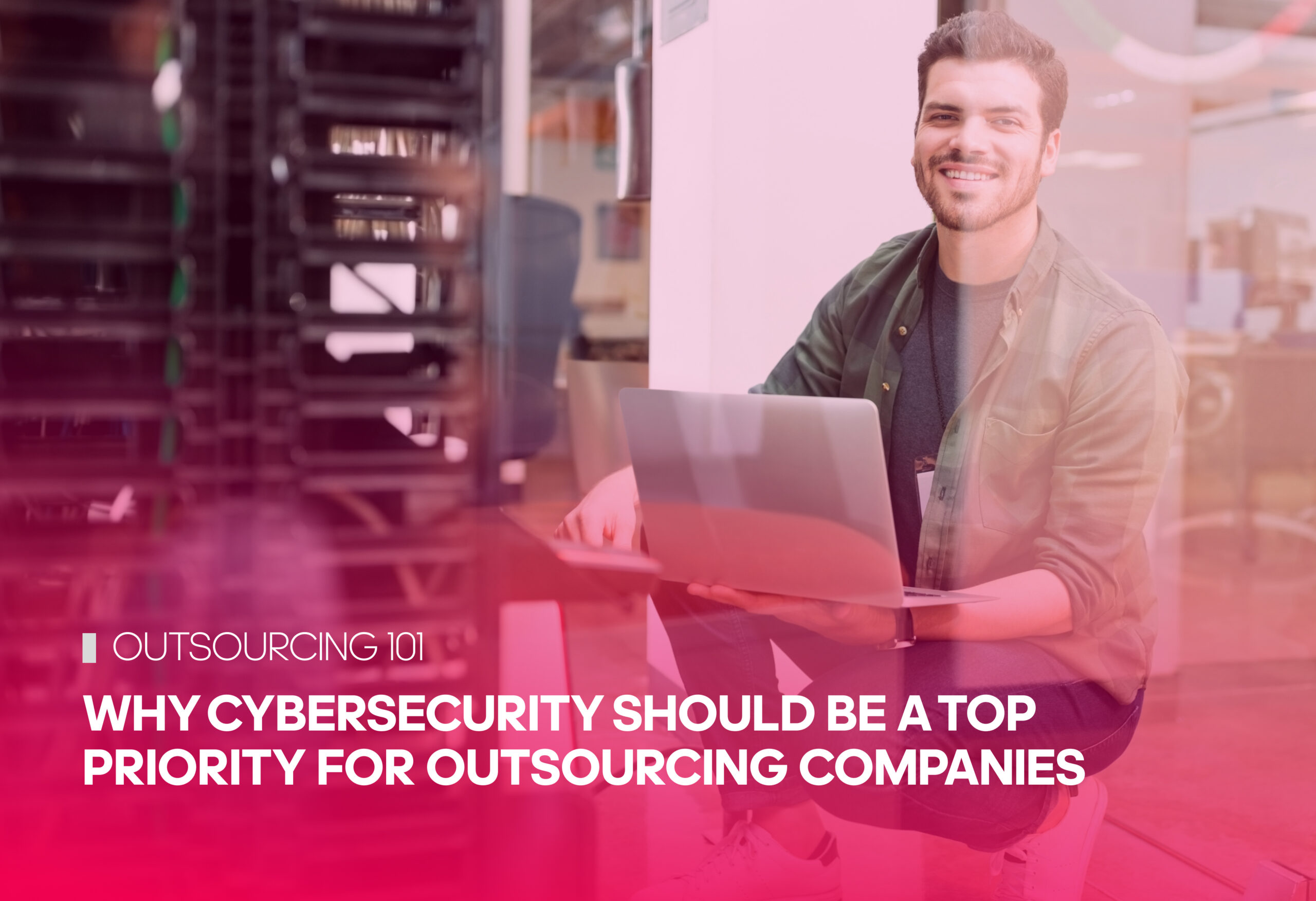 The Cybersecurity in Outsourcing Operations
Securing confidential Data
Businesses frequently exchange sensitive information with outside service providers when outsourcing various areas of their business. Client information, financial data, proprietary data, and other details may be included in these files. Security breaches, legal penalties, and damage to reputation can all occur from failing to protect this information. In accordance with this, data classification, access restrictions, encryption, incident response, and regulatory compliance are addressed. 
Legal and Regulatory Issues
Businesses often enforce cyber security by enacting stricter restrictions as the number of cybersecurity threats rises. Additionally, with emerging industry guidelines that affect every business, cyber security compliance has evolved into the key to success.  Multiple regulations impose rigorous data protection and privacy standards on corporations. Heavy penalties may be assessed for breaking these rules. It is essential to make sure that outsourcing partners follow these requirements in order to avoid paying such fines.
The three primary threats that affect supply chain businesses are malware attacks, security breaches, and releases of confidential data. Both internal as well as external attackers have the potential to cause data breaches. Sensitive information and private information can be leaked outside the company by staff members, hackers, malevolent rivals, and management.
An intricate supply chain of manufacturers, subcontractors, and third-party service providers makes up the outsourcing ecosystem. This chain of entities has the ability to inject weaknesses into the whole system. Computer hackers frequently go after weaker points to access private data. Therefore, cybersecurity is of the utmost importance to evaluate each party's precautions while outsourcing activities.
Continuous Evaluation and Monitoring
Strong security systems, including firewalls, intrusion detection and prevention systems, data encryption, multi-factor authentication, and regular security assessments, are established in BPO businesses that invest in cybersecurity.
Cyber threats change quickly, so security measures that are in place today might not be so in the future. Establishing a continual monitoring and evaluation procedure for the partners in outsourcing is essential that includes examining the security procedures on a regular basis, doing penetration tests, and making sure they are using the most recent cybersecurity best practices.
Service Level Agreements (SLAs) and clear contracts
An SLA is a measurement tool used to establish the baseline performance criteria for a BPO company. It comprises information about the services that will be rendered as well as the standards by which they will be evaluated.Also included are the recruiting and BPO company's responsibilities and tasks, as well as instructions in the event that the agreed-upon SLA needs to be modified or updated.Making sure that the service levels specified are reached by their teams is the responsibility of both the service provider and the clients.
Furthermore, with outsourcing partners, a clear contract and SLAs are essential. These agreements should clearly define who is responsible for cybersecurity, incident response processes, and breach reporting guidelines. The outsourcing partner is  accountable for upholding effective cybersecurity measures by establishing clear expectations.
Employee Awareness and Training
The use of outsourcing goes beyond the IT department, and recommended practices for cybersecurity should be understood by every employee. Workers as well as those employed by outsourced partners should be included in training programs. Everyone working in the cybersecurity effort should do their share to protect sensitive data.
In addition, for the sake of the company's computer security, it might be advantageous to train staff to identify typical online risks. Employees who get security awareness training learn about operational dangers and weaknesses. When utilizing a computer on a company network, employees need to be mindful of their duties and accountability.
Response to Incident Plan
Even with the strongest measures in place, threats can still happen. It is essential to have an incident response strategy in place. The actions to be taken in the case of a security breach should be outlined in this strategy, including contacting outsourced partners to guarantee a coordinated response.
Why Splace is the ultimate Outsourcing Partner?
It is impossible to overestimate the significance of cybersecurity in outsourcing operations. A company's outsourcing partners should be seen as an extension of its own cybersecurity strategy. Companies may gain the benefits of outsourcing while protecting their sensitive data and reputation in an increasingly interconnected world by systematically addressing the risks involved with it, putting in place strong security measures, and encouraging a culture of awareness.
Since data entry operations usually contain highly confidential information, outsourcing data-related tasks and thinking about working with a trustworthy outsourcing provider are reasonable strategies for businesses trying to step up their cybersecurity profile. Hence, Splace is the ultimate partner for you! 
Splace is a market leader in the outsourcing space, with agents that have undergone rigorous screening, training, and upskilling . They are dedicated to upholding the highest levels of data security and quality. Splace is a reliable choice for businesses looking for a trustworthy business partner and strategic ally for their most highly classified information management tasks. The agents are also bilingual and have the most outstanding English language proficiency to meet the demands of US businesses looking to get into the expanding Filipino market. See why Splace's service is right for you. Get started now! 
SPLACE is a dynamic and innovative business process outsourcing company that offers a wide range of outsourcing services to businesses worldwide. With a focus on delivering high-quality solutions, virtual assistance, IT solutions, and exceptional customer service, SPLACE has established the company as a trusted outsourcing and call center service provider to companies across various industries. 
SPLACE comprises experienced professionals who deliver customized and cost-effective solutions to meet every client's business needs. The company believes in the power of technology and innovation to drive growth and success, and its main focus is helping clients succeed in an ever-changing business landscape. 
Clients looking for support in data management, customer service, virtual assistance, technical support, or any other outsourcing need can seek help from the SPLACE BPO firm.
If you are interested in Splace's Business Process Outsourcing Solutions,
Email: ceo@splacebpo.com or call us at 
US: +1 929 377 1049      CA: +1 778 653 5218     UK: +61 483 925 479     AU: +61 483 925 479     NZ: +64 9 801 1818    
NL: +31 20 532 2142