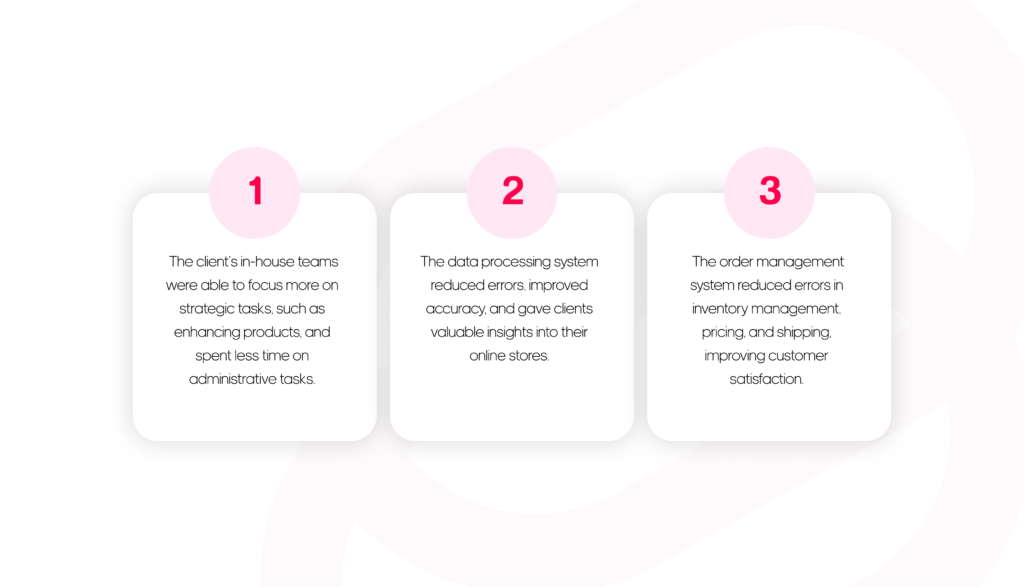 One of the leading mission-critical technology providers (name withheld for non-disclosure (NDA) clause) approached SPLACE BPO for assistance in improving their marketing operations. The clients faced challenges managing their online presence due to increased traffic, sales volume, and a lack of workforce to handle the growing workload.
The client struggled with managing large amounts of data generated from online inquiries, establishing an online presence, and strengthening their digital marketing efforts. The client's in-house teams struggled to keep up with the increased workload, resulting in delayed order processing and customer complaint resolution. The client's order management systems were also backlogged during the pandemic, leading to inventory management, pricing, and manual errors.
SPLACE BPO conducted an in-depth analysis of the client's business operations and identified areas for improvement, including the following:
Implementing a data processing system that would help the clients manage their data more efficiently
Setting up an order management system that would automate order processing and reduce errors, including features such as inventory management, pricing management, and document management
Developing a customized data processing system that included data entry, data processing, and data management services
Allowing the clients to process large volumes of data quickly and accurately using a data processing system
Using data analysis tools to help clients make better-informed decisions about their online stores
Setting up an order management system that streamlined the clients' order processing and reduced errors
Allowing the clients to automate order processing, reducing the time and resources needed to handle the growing workload
SPLACE BPO's solutions resulted in significant improvements for the client, with the following included:
The client's in-house teams were able to focus more on strategic tasks, such as enhancing products, and spent less time on administrative tasks.
The data processing system reduced errors, improved accuracy, and gave clients valuable insights into their online stores.
The order management system reduced errors in inventory management, pricing, and shipping, improving customer satisfaction.
SPLACE's customized solutions helped technology business improve their digital marketing presence and operations, reduce errors, and save time. SPLACE's approach to identifying areas for improvement and developing personalized solutions allowed them to meet the client's unique needs. As a result, the clients improved their customer service and simplified their sales process.
Splace is a business process outsourcing company composed of highly trained, top-rated, experienced, talented, and dedicated Filipino professionals whose mission is to bridge the gap between global companies and their need for exceptional Filipino talent.