The Business Process Outsourcing industry has experienced significant growth over the past few decades. As with any industry experiencing such rapid expansion, leadership plays a pivotal role in ensuring that growth is sustainable and beneficial to all stakeholders. 
Hence, the success or stagnation of a BPO company can be determined by the leadership style in place. The head managers or top executives have a special and crucial function as the stewards of the corporate vision, strategy, and culture. Hence, top-level management plays a crucial role in the BPO industry's competitive environment. 
Here, we'll delve into the unique challenges and opportunities presented by leadership in the BPO sector.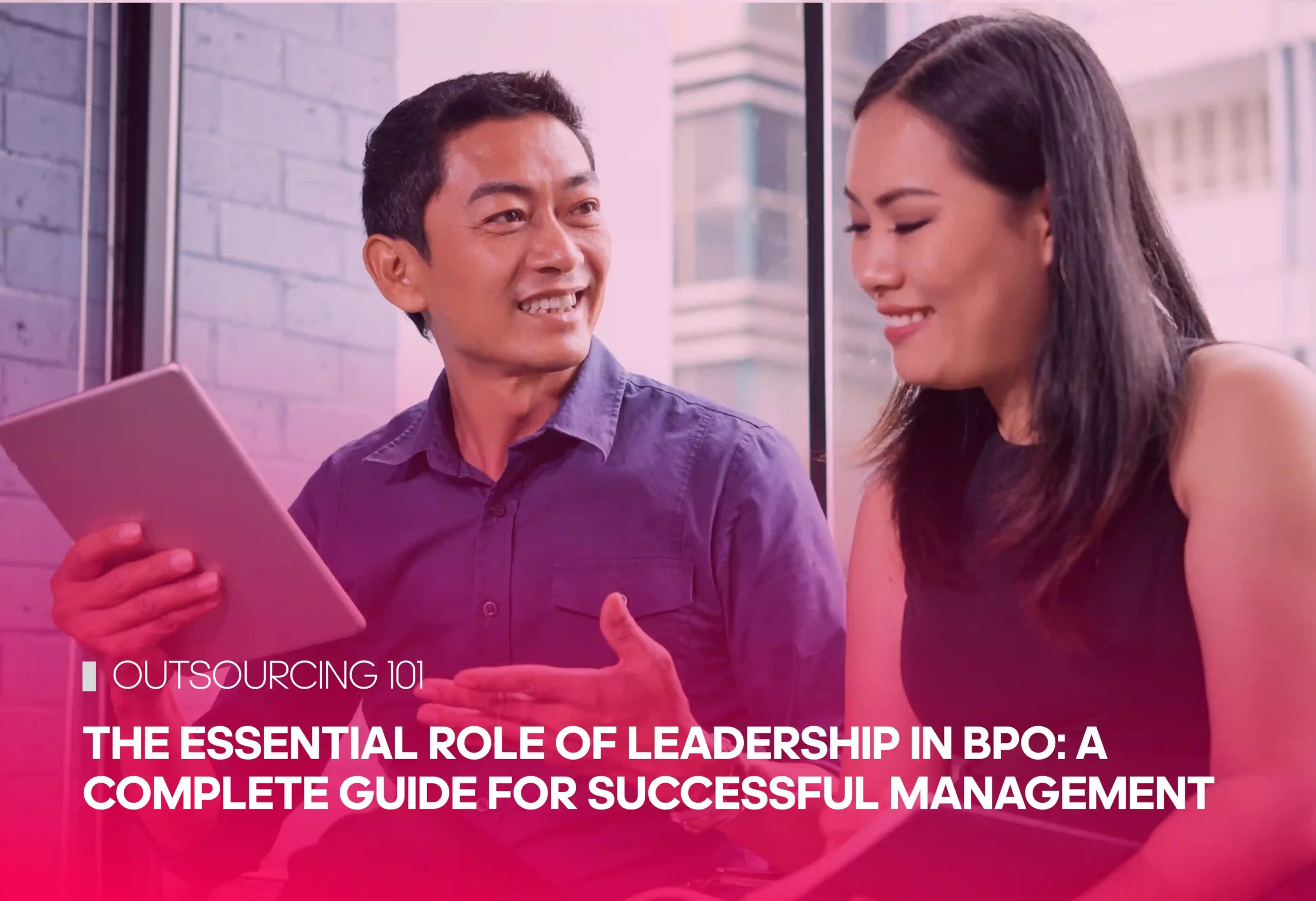 The Unique Challenges of BPO Leadership
In contrast, nearshoring involves transferring business activities to a nearby country, usually one that shares a border or is on the same continent.
Leaders must be equipped to understand, respect, and navigate these differences to create a harmonious work environment. It is important to approach leadership with cultural awareness in order to lead people effectively. Leaders must understand that individuals differ from one another and that their methods of leadership might not be applicable in all situations. They may foster an inclusive atmosphere that recognizes various opinions, experiences, and contributions by recognizing these variances. This inclusive leadership approach promotes a strong sense of belonging among team members and gives varied views a chance to be heard. BPO often involves managing teams from diverse cultural backgrounds. 
Unexpected turnover can be significantly influenced by a bad company culture and leadership. Employees are more likely to quit when they believe they are not respected or are experiencing harassment or discrimination. Additionally, toxic cultures may foster a climate of mistrust and dread, which can be demoralizing for workers. The BPO industry is notorious for its high attrition rates. Leaders need strategies to motivate, retain, and continually train their team members.
Life is different on every shift, especially in a fixed shift setting, which presents a difficulty for many organizations. A complete dedication to the creation of a continuous operations culture is necessary for managing a 24/7 operation successfully. Most BPOs operate around the clock, necessitating a leadership style that is flexible and can adapt to different shifts and time zones.
Rapid Technological Changes
As technologies evolve, BPO leaders must ensure that their teams are equipped with the latest tools and training. Leadership is of greater importance than ever, and in the years to come, technologies will continue to influence how leaders perform. Therefore, if they want to stay ahead of the competition, leaders must adopt these new technologies and use them wisely.
Key Leadership Qualities in BPO
A leader who can adjust their actions in reaction to situational changes is said to be adaptable. They display gratitude when things don't go according to plan, and recover quickly from setbacks by viewing it as a chance to learn. They are open to understanding that what has worked in the past may not work in the future even if they may use their prior knowledge and expertise to address an issue. The BPO landscape is constantly changing. Leaders should be prepared to pivot their strategies and approaches in response to new challenges and opportunities.
Every aspect of our lives, both personally and professionally, depends on our capacity to feel empathy and relate with others. Empathy in the workplace is a crucial component of emotional intelligence and leadership success. It also enhances interpersonal relationships in general, which may result in more effective communication and beneficial results at work and at home. Building genuine relationships with team members, understanding their needs and concerns, and fostering a supportive work environment can reduce turnover and boost morale.
Leaders must be effective communicators because they encourage and motivate those around them. Without such abilities, a leader would never be heard or understood by others. So, one essential non-technical talent that any leader has to have is good communication. In BPO, leaders should be clear in their expectations, provide consistent feedback, and ensure that their teams are aligned with the company's goals.
A forward-thinking attitude can help leaders anticipate industry shifts, identify new areas of opportunity, and implement proactive strategies. Innovative organizational change leaders who are successful do so from a place of commitment and internal drive.
Two fundamental responsibilities of leadership are making judgments and managing people who make decisions underneath you. An intelligent choice helps your company progress, and systematizing the process of making these selections may guarantee that the options made are the best ones for your group. In a fast-paced environment, timely and well-informed decisions can make the difference between success and stagnation.
Strategies for Successful Leadership in BPO
Invest in Training & Development
Employees of service providers want to make wise choices regarding their limited resources at work, just as service providers strive to obtain returns on investment (ROIs). Professionals desire to advance in their positions and gain new skills in an environment with social components. Continuous learning opportunities can empower employees, reduce turnover, and ensure that teams are equipped to handle evolving challenges.
Promote Work-Life Balance
Work-life balance is a challenging concept to conceptualize since many different things affect how balanced a person feels. Making sure there is adequate time set up for work, family, and personal leisure interests is more important than just allocating equal amounts of time to each. Given the 24/7 nature of many BPO operations, it's essential to respect employees' personal time and promote a healthy work-life balance.
Harnessing the latest technological tools can streamline operations, enhance service delivery, and keep the company competitive. Service providers use technology to digitize educational materials and put worker skill enhancement programs into place that are affordable. Trainers can distribute educational resources and training information via the Internet via e-learning.
Creating an environment where team members feel comfortable sharing their insights and concerns can lead to valuable improvements and innovations. Being able to provide constructive criticism in a contact center that builds the team and reinforces the proper behaviors at work is essential for success as a contact center manager.
Acknowledging outstanding performance, whether through financial incentives, promotions, or simple verbal recognition, can boost morale and motivation. Employees who get appreciation are more likely to be loyal and engaged. It is possible to integrate employee gratitude into your workplace culture by implementing meaningful and deliberate procedures. 
Effective leadership in the BPO sector requires a nuanced understanding of the industry's unique challenges and opportunities. By embracing adaptability, promoting a culture of continuous learning, and valuing the contributions of each team member, BPO leaders can guide their organizations toward sustained success in an ever-evolving landscape.
A lot of leaders think that a leadership approach that works for one team, industry, call center, or environment might not be appropriate for another. In other words, the appropriate leadership approach for a team or call center relies on the demands and circumstances of the company. Many argue that the objectives of the call center, the capabilities of its staff, processes, rules, and technology all have a role in choosing the best leadership approach. 
SPLACE is a dynamic and innovative business process outsourcing company that offers a wide range of outsourcing services to businesses worldwide. With a focus on delivering high-quality solutions, virtual assistance, IT solutions, and exceptional customer service, SPLACE has established the company as a trusted outsourcing and call center service provider to companies across various industries. 
SPLACE comprises experienced professionals who deliver customized and cost-effective solutions to meet every client's business needs. The company believes in the power of technology and innovation to drive growth and success, and its main focus is helping clients succeed in an ever-changing business landscape. 
Clients looking for support in data management, customer service, virtual assistance, technical support, or any other outsourcing need can seek help from the SPLACE BPO firm.
If you are interested in Splace's Business Process Outsourcing Solutions,
Email: ceo@splacebpo.com or call us at 
US: +1 929 377 1049      CA: +1 778 653 5218     UK: +61 483 925 479     AU: +61 483 925 479     NZ: +64 9 801 1818    
NL: +31 20 532 2142