The COVID-19 epidemic caused tremendous changes in the world of business. Outsourcing has become a vital means for businesses as they adjust to the new normal to remain competitive, adaptable, and economical. 
Following the COVID-19 outbreak, a lot of companies are opting to begin operations again. Businesses have shifted their attention back to the most important things as a result of the unprecedented circumstances and the possibility of an extended global recession in the economy. Many businesses are currently trying to simplify their operations to maximize profits while reducing needless expenses and hazards.
The majority of enterprises face intense global rivalry as well. To free up additional hours and assets to concentrate on activities that generate income, firms must take advantage of areas where they can leverage to enhance efficiency and minimize expenses. The future will see many firms focusing on increasing productivity while also enhancing everyday workflow efficiency. Companies may overcome productivity issues, simplify processes, and add extra resources that may be missing internally by working with an expert outsourcing provider. Outsourcing offers several options to improve the efficiency of your company's operations, sales, and hiring.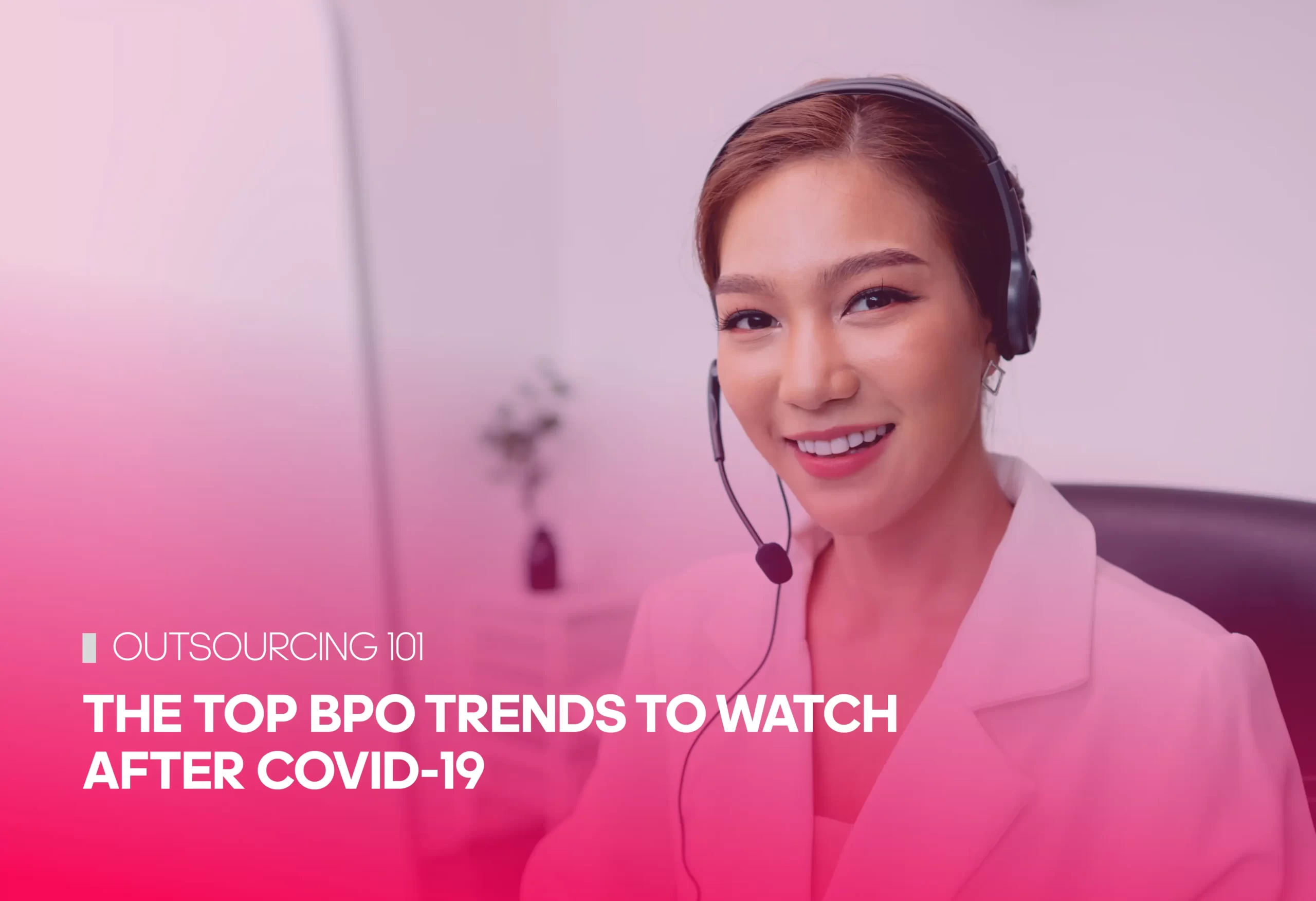 BPO Trend in Post-Covid 19 Era
The Evolution of Heterogeneous Teams and Remote Working
The broad use of remote work was one of the biggest shifts prompted by the pandemic. Businesses soon recognized the advantages of dispersed and remote workers. We observe a sustained dependence on remote employees in the post-COVID-19 period, both locally and globally. Businesses now have access to a vast talent pool and the freedom to extend their teams as necessary thanks to this trend.
Strategies for onshoring and reshoring
Offshoring has been a common outsourcing strategy for a while, but this pandemic forced several businesses to reassess their worldwide supply networks. Businesses are looking to lessen supply chain risks and ensure tighter control over crucial activities, hence reshoring and onshoring have gained popularity. This tendency is especially obvious in sectors where cybersecurity and efficiency are top priorities.
More Efficient Digital Transformation
The epidemic highlighted how crucial digitization is. Many companies accelerated their digital transformation initiatives to adjust to remote employment and shifting consumer patterns. From cloud computing and encryption to e-commerce platforms, outsourcing partners have been crucial in assisting businesses in digitizing their operations.
Emphasis on Privatization of Data and Security
Data security and privacy are issues that are becoming more and more important as the world becomes more digital. In order to ensure that outsourcing partners adhere to strict data protection rules, businesses are analyzing them more carefully. Non-negotiable laws driving firms to invest heavily in effective cybersecurity solutions.
Automation and AI integration
Outsourcing approaches now place a strong emphasis on automation and artificial intelligence (AI). To increase productivity and cut costs, businesses are utilizing AI-driven technologies like robotic process automation (RPA). The ability to integrate AI across diverse businesses is a skill that outsourcing partners are increasingly required to offer.
Transforming Pharmaceutics and Medical Care Outsourced Services
During the global epidemic, there were considerable developments in the pharmaceutical and healthcare industries. Significant developments include cooperation in vaccine production, telemedicine, and clinical research outsourcing. The sector is still developing as regulatory frameworks change to accommodate new healthcare outsourcing models.
Because on-site labor will remain essential to daily operations after COVID, there won't be much of a detrimental effect on close physical labor due to social distancing brought on by the virus. Organizations will still need a local presence for certain tasks like internal deliveries, reprographics, and hospitality. However, the globe is the market for more expensive, complicated features.
In general, outsourcing will be seen and used in a fundamentally different way. It won't be concentrated on the outsourcing of "labor" in every circumstance anymore. Businesses will outsource "functions," which call for different approaches for each process, and have already begun to do so.
Embracing Innovation and Efficiency at Splace!
Outsourcing has emerged as a critical tactic for companies looking to adapt and survive in a dynamic environment in the post-COVID-19 pandemic. The outsourcing environment is changing as a result of remote work, reshoring, digital transformation, data security, automation, and increasing industry-specific outsourcing trends. Companies need to be flexible, look for strategic alliances, and embrace outsourcing as an innovation strategy if they want to prosper in this new century.
For businesses looking for long-term success, Splace will be keeping up with these outsourcing trends and adjusting to shifting conditions as businesses change. 
Splace is one of the leading global BPO companies in the Philippines that has been delivering comprehensive outsourcing solutions for years. The workplace effects of COVID-19 on the BPO sector have been directly seen by the company, and Splace is always working to adapt to these changes.
Ultimately, Splace has always been able to evolve, thrive, and develop, consequently, there is no reason to believe that the next phase is going to be any more difficult.
If you are interested in Splace's Business Process Outsourcing Solutions,
Email: ceo@splacebpo.com or call us at 
US: +1 929 377 1049      CA: +1 778 653 5218     UK: +61 483 925 479     AU: +61 483 925 479     NZ: +64 9 801 1818    
NL: +31 20 532 2142