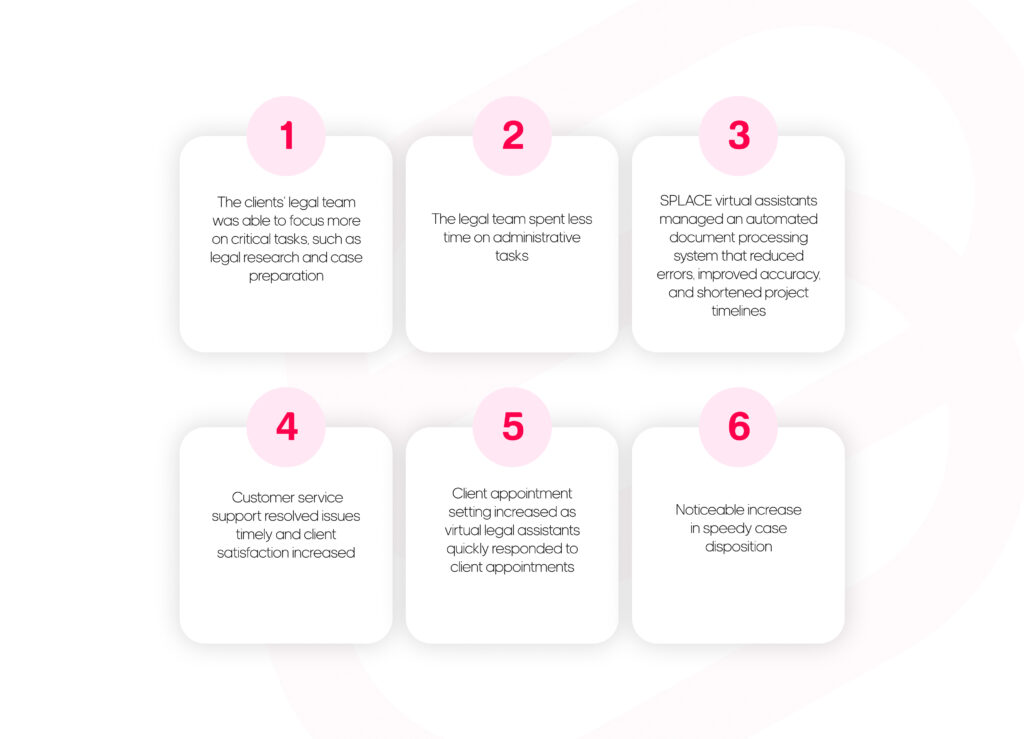 A leading legal service firm (name withheld for privacy) approached SPLACE for assistance in streamlining their document processing and data entry tasks. The client's legal team spent most of their time on administrative tasks, leaving them less time to focus on more critical tasks, such as legal research and case preparation.
The client's document processing system was outdated and lacked automation. The legal team's in-house assistants spent too much time manually recording data into spreadsheets and traditional documentation methods, resulting in inaccuracies and delayed project timelines. The client's legal team was also struggling with managing an overwhelming amount of paperwork, storing and indexing cases and legal forms, which led to lost or misplaced documents and misfiled information.
After thoroughly examining the client's present procedures, SPLACE identified several potential areas for improvement, including the following:
Suggesting implementing an automated document processing system managed by a virtual assistant that would improve efficiency and reduce errors
Working with the client to develop a customized document processing system that included Optical character recognition (OCR) technology to convert files into a readable format and simplify data entry tasks
Assigned a dedicated team of virtual assistants that analyze critical data from legal documents, reducing the legal firm's need for manual data entry
Assisted in setting up a document management system that organized the client's records in a logical and easily searchable way
The VA-managed documents allowed the client to quickly locate the information they needed, reducing the time spent on administrative tasks
SPLACE's solutions resulted in significant improvements for the client, including the following:
The clients' legal team was able to focus more on critical tasks, such as legal research and case preparation
The legal team spent less time on administrative tasks
SPLACE Virtual Assistants managed an automated document processing system that reduced errors, improved accuracy, and shortened project timelines
Customer service support resolved issues timely and client satisfaction increased
Client appointment setting increased as Virtual Legal Assistants quickly responded to client appointments
Noticeable increase in speedy case disposition
SPLACE's customized solutions helped the legal service provider improve competence, reduce errors, and save time. SPLACE's dedicated virtual legal assistants managed data entry tasks and administrative tasks. A seamless approach to identifying areas for improvement and developing customized solutions allowed them to meet the client's unique needs. As a result, the client was able to serve their customers better and increase their bottom line.
Splace is a business process outsourcing company composed of highly trained, top-rated, experienced, talented, and dedicated Filipino professionals whose mission is to bridge the gap between global companies and their need for exceptional Filipino talent.